You have to watch this music video if you haven't seen it yet. It's clean and safe for all ages and though the video seems a bit bizarre, it has gone viral and the song is c-a-t-c-h-y-.  My daughter's karate studio plays the song for their warmups, so it must be legit…
I already did a post on a cool take for a "Mr. & Mrs. Fox"  couples Halloween costume, but this post gives you some ideas for costumes that are slightly more literal representations of the animal characters from this song.  It's going to be a popular Halloween costume theme this year for individuals, couples (a fox and a fox dancer), and groups. You could even do a huge group with many different animals, or just the fox and a large ensemble of female fox dancers. Have animals and dancers for a super size group.
>SUPER SIMPLE TIP IF YOU DO THE GROUP OF ANIMALS INCLUDING THE FOX: HAVE EVERYONE WEAR ALL BLACK AND THEN WEAR THE HAT/EARS/ACCESSORIES THAT GOES ALONG WITH IT.  IT WILL BE CHEAP, EASY, AND YOU WILL LOOK REALLY PULLED TOGETHER AS A GROUP, ESPECIALLY IF YOU ADD IN THE FEMALE FOX DANCERS IN THEIR BLACK AND WHITE UNIFORMS. SUGAR SHARP.
Fox: The fox mascot costume for a male adult is now in hot demand, so retailers have raised their prices and may even be sold out. Check out Amazon for the fox costume.
Another option is to sew a fox costume out of fleece or fur.  Purchase it from Amazon and you can adapt it as needed for the fox costume.
Another option is to go a little less literal with brown jeans/pants (you can dye khaki pants a darker shade of brown) and a brown sweater, but splurge on a cool hat.  Here are a few hat options for both males and females:
Dog: Wear all black and add one of the masks available here from Amazon or order the full blown costume. The review of this first latex mask (the 2nd mask is fuzzy) says that there's no holes for the eyes, which is a problem, but I'm sure you can simply cut 2 small holes in the latex near the eyes so that you can see.
Bird: Wear the bird mask with an all black outfit. You can add a white or yellow feather boa around the mask to make the mask look more like it does in the video.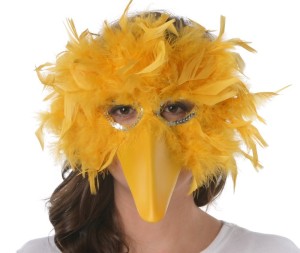 Click on image to purchase
Elephant: Wear all black and buy the hat, or go all out with the mascot elephant version.  Don't forget to paint your face grey.
Cat: Easy peasy to wear all black with the cat ears and tail and draw on some whiskers with eyeliner.  I like the black dress she wears in the video.  You might have something like that in your closet.  
Mouse: Again, wear all black and paint on the mask around the eyes for a mysterious mouse look.  Is there such a thing?
Cow: Wear all black and buy one of the hats shown below.  If you want to go a little fancier, I don't have much good to say about the cow costume; I think it's a bit odd.  But if you want to put a bit more effort into the cow costume, your quickest bet will be to sew an easy vest from a brown cow print fabric, or take an existing vest and hot glue brown cow print fabric over the front of it after you trace what size and shape it needs to be. You can glue some brown suede fringe to the bottom of the vest if desired.  Wear it with a white long sleeve shirt and white jeans and cowboy boots.  That face paint job is crazy; I would just do a big brown cow spot over one eye, maybe both, and outline it in a wide border of white to highlight it.  You can do your whole face if you want, but my kids said they think a few of the costumes, well they said actually the people, seem a bit creepy.  I agree.
Frog: Wear all black and add this tree frog hat.
Duck: Wear all black with the duck bill and add a piece of white feather boa to this mask
Fish: Wear all black and buy this colorful fish hat from Amazon
Seal: Wear all black and buy this hat from Amazon
Horse: Wear all black  and buy this very life like mask/hat from Amazon
Uniformed Fox Dancers:   Wear black pants, black shoes, white long sleeved shirts, black ties available here for cheap on Amazon, and this inexpensive mask.  Paint the mask red with craft paint, add a white stripe near the bottom edge of the mask and glue red feathers on the sides and ears to make them a bit larger.  See the music video @ 2:57 for the best shot of those red masks. Or buy the masks that are already fancy in red.