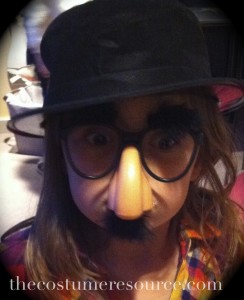 Teenagers can be hard.  I have a teen, a tween, and one waiting in the wings.
When it comes to Halloween costumes, teens can be especially challenging.  Direct quote from my teenage daughter: "Well it's hard to decide on a Halloween costume.  You want to dress up, but not look like you tried too hard, and you want to be cute still.  And comfy. It has to be comfy."
So there you go.  Cute and comfy is the key to a teen girl Halloween costume.
Here are 10 easy DIY teen Halloween costume ideas that fit "cute and comfy":
1.  80s Chick: crimped hair or high side ponytail, leggings, leather jacket, neon anything, leg warmers,  oversized sweatshirt, high tops, bangle bracelets.
2. Nerd: Center part with ponytails or braids, glasses with tape around the center (3D glasses are cheap and easy just pop the lenses out if you want), button up shirt with top button buttoned, cardigan mis-buttoned, high waisted pants with shirt tucked in or a pleated skirt,  penny loafers with knee high socks.
3.  Audrey Hepburn: Get out that LBD (Little. Black. Dress.), a strand of pearls, 60s style coif.
4.  Minion from "Despicable Me":  Denim mini-jumper, yellow shirt, yellow tights, black boots, yellow beanie, homemade goggles.
5. Rosie the Riveter: Bandana to tie around your hair, falsies (false eyelashes), red lipstick, denim shirt with leggings.
6. Hippie: Floral maxi dress, long wavy hair, floral headband, John Lennon glasses, peace sign earrings.
7. Beauty Queen: Short formal dress, heels, glamour hair and make up, dangling rhinestone earrings, a tiara.  Don't forget the sash and give yourself a title.
8. Rodeo Queen: Colored Jeans, a western style shirt, dangling rhinestone earrings, huge Texas style curly-frizzy hair, a cowboy hat with large tiara, a big belt buckle, cowboy boots, a sash that proclaims yourself "Rodeo Queen."
9. Olympia/Greek Goddess: long white, cream, or gold dress or formal, gold cord belt from Christmas decorations or curtains, a braided or ivy hair wreath, gold jewelry, long wavy hair or loose braid.
10. Wednesday Addams: Black dress or black sweater with black skirt, must have the white collar on the outside, black opaque or striped tights, funky fun black shoes, center part with two hair braids, pale face, black lips.
Many of these items can be found in your closets, at a thrift store, or online if you want it shipped to your door.  For more tips on how to create and design a Halloween costume, buy my Amazon ebook here.  Follow me on Facebook for tons more ideas!