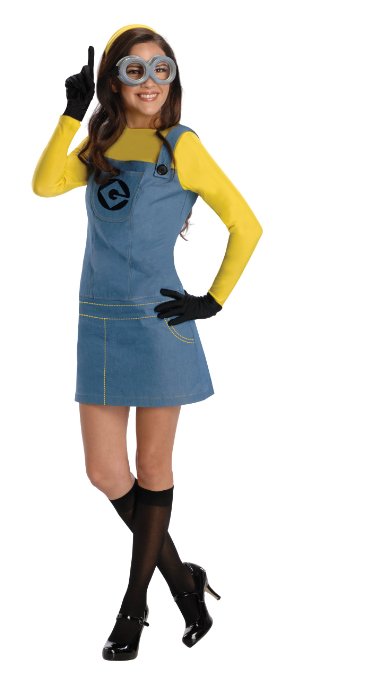 My daughter wants to be a minion for Halloween after watching this helpful tutorial. Some of the costume websites are sold out of the minion costume, so it looks like it will be a popular one this year!
This tutorial shows how to put together the minion costume out of a white long sleeve t-shirt, a beanie cap, and tights which are easily found at a discount store, then  dyed in yellow Rit dye to match each other.  Next you refashion a denim jumper you purchased at the thrift store. Remember when these were all the rage in the late 80's/early 90's? I don't think these are hard to find.  If you can't find the short denim jumper, just refashion a longer jumper by cutting it to the length you want.  You don't  have to hem it because denim will not run.  If you need a boy minion costume, just find pant overalls at the thrift store.  If you don't want to wear man hose, you can leave the overalls long or chop them to a capri length so that your boots will show and wear socks instead of tights. Don't forget to dye the socks in the same batch as the long sleeve t-shirt and beanie.  You can cut them to a knicker or shorts length if you want to show off your legs in the yellow tights.
Amazon has the minion googles, or if you are crafty, this video shows how to make them by hand.  Add some bold false eyelashes, a bit of other makeup, and black gloves and boots. Once you gather your supplies, this costume can come together easily in an afternoon.
However. The Costume Resource is all about creating unique, one-of-a-kind costumes.  And by "costumes", I mean not only the clothing part of the costume, but everything else that goes along with it. (For more info, check out my Kindle ebook on creating and designing costumes.)  Your costume does not need to be made  from scratch–it's more about refashioning pieces of the costume to stamp it with your creativity and unique style. This tutorial is a good start to the costume, but it is pretty much an exact copycat of the minion costume available online.
Here are some ideas if you want to change up the costume a bit, so that you don't look like everyone else who made this minion costume following the tutorial:
Tie dye the t-shirt in yellow dye, or do a reverse tie-dye where you start with a yellow shirt, put elastics on it, then squirt bleach on the shirt around the elastics.
Sew a yellow ruffle around the hem of the denim jumper with a cute pattern like polka dots, chevron pattern, or black and white checkerboard or stripes.
Add silver, yellow or black sequin trim around the emblem on the front of the dress
Make hobo gloves out of regular knit gloves by cutting off the tips off of each finger
Skip the beanie and wear a yellow or black headband and add a giant yellow bow (cheerleader style) to the top or side of the headband.  Mix and match colors as long as they are yellow, black, and white with patterns on the ribbon like dots, stripes, and checkerboard.  Go for strong bold patterns mixed in with solids.
If you don't want to wear a headband, you can get the same fun effect with the ribbons by making smaller bows and gluing them to the bottom of the sleeves or the top edge of the gloves.