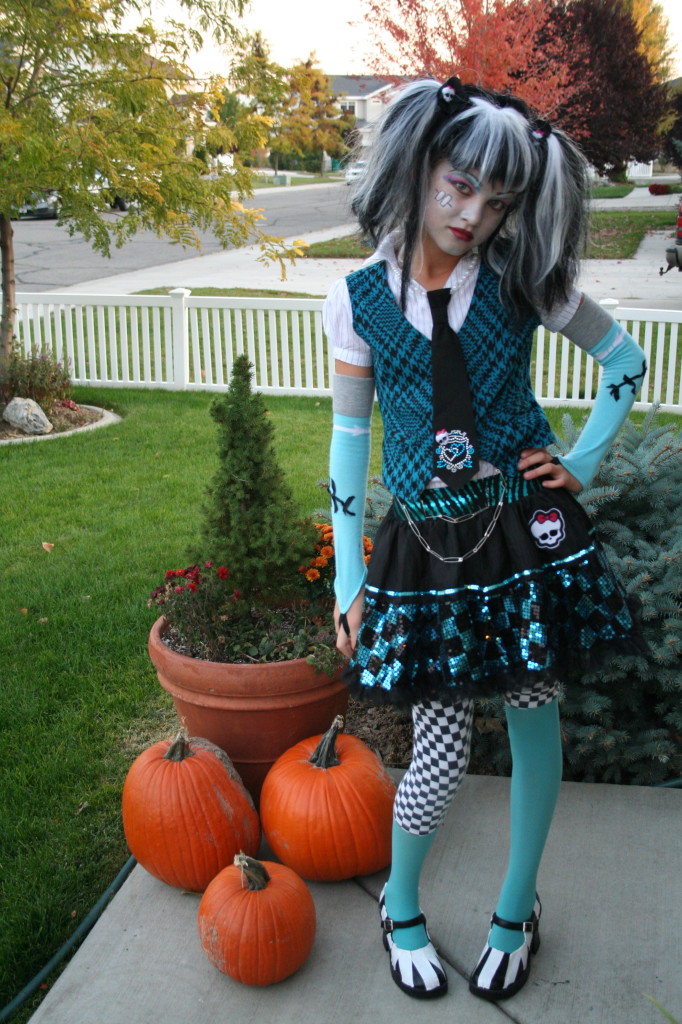 This morning my daughter showed me a favorite channel on YouTube called KittiesMama where an adorable 8 year old girl does Monster High Dolls makeup tutorials (see below),  so I was inspired to post pics from the year we did a Monster High Group costume for our family.
I prefer to use regular clothing that will get used again, where possible, as part of costumes and I like them to be one-of-a-kind, so I generally do not buy the "costume-in-a-bag" available at the retailers during the Halloween season. However, I do like to purchase accessories that really define the character and that are worth the splurge.
For more info and step-by-step instructions on my proven process used to create a Halloween costume, check out my eBook on Amazon, "How to Create & Design a Halloween Costume."
Frankie Stein is a school-girl look.  So think of plaids, argyles, a tie and/or vest, a skirt (pleated maybe), white collared shirt, tights & mary jane stye shoes–along with elements of Frankenstein such as stitches and bolt accents.  The creative part is finding the individual pieces that will work together as a one-of-a-kind costume with your special touches.
Frankie Stein Halloween Costume Recipe:
Black and white wig, wig cap: I didn't like the bump and grey highlights  in the exact Frankie Stein wig–they didn't seem to look right, so we opted for a different wig.  To the ponytails, I added Monster High skulls that came off of Monster High hair accessories which you can see better in the picture below. But if you want to be spot on with the character, then click here to order the Frankie Stein wig at Target or Amazon. (This Amazon link is for the adult size which works best for girls approximately 7 years and up, depending on head size. For girls 6 and younger, go with the child size. But if in doubt, go with the adult because it's easier to secure a large wig than squeeze into a wig that's too small.)
School girl-look shirt/sweater/vest in some combo with plaids or argyles, a tie, a collar: The shirt shown in the main photo came with the attached vest and tie, and we simply glued a plastic Monster High skull to the tie. My daughter didn't wear the tie again, but the shirt/vest combo became a regular in her Sunday church clothes.  That is the goal–to either buy something you will use again or look in your closet to see what you already have that you can use.  You can use a white shirt like this from Justice, find  a vest, and add a skull from the hair accessories to the plaid tie (see the fashion set below). Stick with white/turquoise/black/touch of red color scheme.
Black and turquoise skirt, or purchase the current official plaid skirt here: 

I bought her official Monster High Skirt at Walmart at few years ago in the toy section. There are 

other versions available on Amazon like this one,

or you can try eBay and other toy retailers. If you buy the plaid skirt, then you'll probably want to use mostly solids for the top and vest, unless you have an exact match.  If you use plaids/argyles in the top, then you'll want to stick to solid colors in the bottom unless you have a very close color match.  Be sure to bling up a solid skirt with embellishments like tulle, black or turquoise sequin trim, or a black/turquoise/white ribbon with a bold graphic like polka dots or checks.
Arm warmers:

These were m

ade from knee-hi socks with the feet cut off. The edges were surged, and an elastic loop was sewn in the middle of the bottom edge and slipped over her middle finger so that the arm warmer came down to a V on her hand. We added stitch marks on the arm warmers black felt and hot glue.

Chain accent at waist made from safety pins: It's super easy to pin them to each other to form a chain.
Black and white graphic leggings, optional: For my tastes, the skirt was too short to wear with just tights, so we added checkerboard leggings and stylized them by pulling one side up to be shorter than the other.
Aqua tights & Monster High mini-plastic skulls from the Monster High Frankie Stein Fashion Pack : Use the plastic skulls on accessories like a belt, the tie, in the hair or on the shoes to emphasize Monster High. With the fashion pack your child then gets some additional accessories she can wear with her costume or after Halloween.
Black and white platform mary jane style shoes: 

We found just what we needed with a comfy chunky heel at the local thrift store then added white duct tape to make stripes. They were way better looking than the Frankie Stein shoe covers.

Some type of plastic cap that would look like a bolt & spirit gum: We got the "bolts" from the caps of squeezable water packs, similar to squeezable applesauce.  We sprayed them metallic silver, then secured them with spirit gum, which is a liquid adhesive used in applying costume prosthetics or facial hair.
Makeup or face paint: I used this kit available in Amazon along with some of my regular makeup.  There is a Monster High Frankie Stein Make-Up Kit, but it didn't have high reviews on Amazon.  I prefer not to use most of those kits because the makeup is not high quality, smudges easily, and does not have staying power, which is fine for play, but not when makeup needs to last all day. The kits specifically for face painting do a much better job.  I like the kits by Snazaroo available here on Amazon and they carry a wide selection of colors.  I applied a  sheer coat of white for the base on her face, went over it with a thin layer of turquoise, then used liquid eyeliner to paint exaggerated eyebrows above her regular brows, which allowed greater space for the"eyeshadow" I wanted to paint on using 4 colors of face paint. We drew the stitches on her cheek with liquid eyeliner, lined the top and bottom of her eyes, and added ruby red lipstick.
If you want to go with a little simpler makeup design, then check out Emma in this KittiesMama tutorial.
If the thought of all this, exhausts you and time is short,  purchase the ready made costume here at Target where they have some great sale prices going on until Halloween.  But at least give the makeup job a shot–even a cute 8 year old can do it!