The Roaring 20's and The Great Gatsby seems to be a popular costume theme for parties, dances, and other special events. I wrote a previous post here on 1920's costumes for women, but I neglected to write for the 1920's men's costume.
To me, men's fashion overall isn't as fun or dynamic as women's fashion, but the 1920's do have some pretty snazzy looks for men. And boy are they good lookin'.
Think 3 piece suits, light colored suit pieces, club shirts with white collars on a blue or khaki dress shirt, bold striped vests and jackets (as in Barbershop quartet-look), pinstripes, pocket kerchiefs, and bow ties.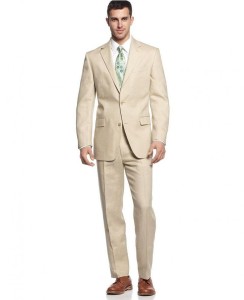 Head to the thrift store, raid Grandpa's closet, or splurge on a dapper suit.  If you can track down a fitted pin stripe suit, add a blue shirt, and a bow tie.  Or go with brown tweed pants, a club shirt which is pretty easy to find, pattern vest, and a necktie with thick bold stripes.  Then there's always a tuxedo, especially if your date is dressed to the nines. Wear it with a lay down collar shirt (not wing-tip), vest, and hand tied bow tie.  Do not wear a cummerbund and pre-tied tie because you will be mistaken for the waiter.  The two-toned loafer or oxford Spectator shoe is a standout accessory from 1920's men's fashion.  It's all in the details.
Check out this link to Brooks Brothers' Great Gatsby Collection.
This link is a helpful guide to men's suits in the 1920's,  this one for men's shirts in the 1920's, and this link for shoes from the era.
Here is a link with many pictures to inspire your costume based on incorporating more recent trends in fashion.
I just can't get enough of spectator shoes.
That takes care of the clothing, shoes, and accessories.
Men don't need to concern themselves with any makeup or props for this costume.
The last ingredient in this 1920's costume is the hairstyle.  Short sides and longer hair on top slicked to the side with hair paste is the basic idea.  Here's a hair tutorial to finish off the look.