So I after writing a post about a gorgeous white witch costume idea where the hat and broom really make it special, I went on a hunt for white witch hats.
There ain't much out there online unless you are crafty and are willing to make your own white witch hat from scratch as shown in this YouTube video at minute 4:30. This tutorial inspired by Elphaba's Wicked hat looks simple, but I think it will take a bit of time.  I like to take the route where I refashion something that already exists.  I don't sew and I love my glue gun.   Cover an existing black witch hat in white fabric, and/ or embellish a white hat with silk flowers and bridal floral bling.
For the non-crafter, or time starved, Amazon and Etsy to the rescue!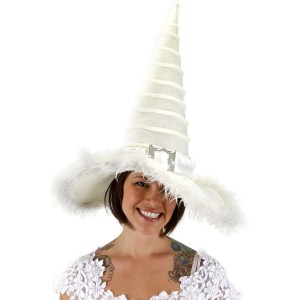 This hat as shown has a modern feel to it with the fur, the large buckle, and the tiered top.  Which could all be good if your dress is more contemporary.
However, this hat could be a great base for breaking out the glue gun to create your own fabulous white witch hat.
Cover the buckle with wide ribbon, an oversized bow,  or a large cluster of silk flowers.  For a slightly more elegant look, scour the bridal section in your craft and hobby store for silk floral sprays like these used in bridal design which you can mix in with other white flowers.
Trim the fur super short or even try to remove it.  I have success removing glued on items by holding a hot hair dryer above the item and applying the heat from the dryer while gently pulling to release the embellishment.  Sometimes you will get some slight damage or glue remaining, so have a plan to cover any less than pretty edges with ribbon, lace, or other trim.
Who knew Amazon had bridal veils? This organza veil looks a bit less like a bride than the traditional tulle veil, but you could also use a square of organza from the fabric store, glue on beads or lace with craft fabric glue, or use the easy to find tulle. I like the idea of a witch bride…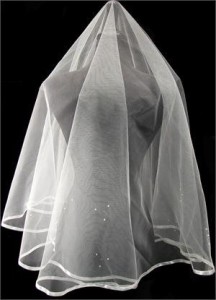 OR you can order the white witch hat already embellished from Etsy! Ta-Da!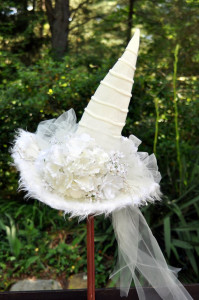 Comment below if you have questions on these hat ideas or any other costume needs–I have creative ideas on how to solve your costume issues and they usually involve a glue gun, a thrift store, and craft supplies!