My friend told me her daughter was going to be a police officer for Halloween and later that day I saw these police hats at Target: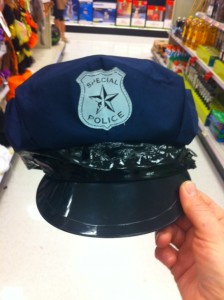 For a unisex costume:
Navy polo shirt
Navy shorts
Black belt
Black combat boots, dress shoes, or mary jane style shoes, black socks
Police hat available here from Target
Badge, maybe kid friendly handcuffs
If you wear school uniforms, you may have the clothes and belt already in your closet.  If not, you can check thrift stores or easily find the pieces online.  Then they have items they can wear afterwards!  Wear the shirt tucked in so that the belt shows and scrunch the socks down around the ankles. Splurge on the police hat and find the badge at a party supply store.
For a girl's costume that is a bit more feminine:  use a navy school uniform style jumper and pair it with a navy or light blue polo shirt underneath or a navy or light blue button up oxford style shirt.  If you already have a white shirt, you can dye it to get the blue you want.  Add a black mens tie at the neck for detail and a wide black belt if desired.  Tuck the handcuffs into the belt.  Pin the badge to the top of the jumper. For extra cuteness, refashion the jumper by adding a 3″-6″ ruffle around the hem of the jumper in black or silver confetti dot sequin fabric, or a navy and white or black polka dot, stripe, check, or houndstooth print.  Aviator sunglasses add a sassy look.
You can easily adapt this to a this recipe can work for an adult costume too, or even a couples costume, but I don't know…Can you  get in trouble for impersonating a police officer?
Take an alternative approach as a Scotland Yard officer:
Short sleeve or long sleeve white button up shirt
Solid dark navy or black tie
Dark navy or black pants with belt
Black and white checkerboard duct tape
Police Hat
Police Badge
Black felt
Random small jacket pins
Handcuffs
Get the police hat at Target, then wrap black and white checkerboard around the rim of the hat, and pin the badge to the center of the hat.  Cut out black felt in the shape of epaulets, then pin them from the underside to the shoulders of your shirt, or glue them on if this is a shirt you are willing to "refashion."  Pin the jacket pins on the epaulets.  Dangle the handcuffs from your belt.  It could be fun to tease the kids…