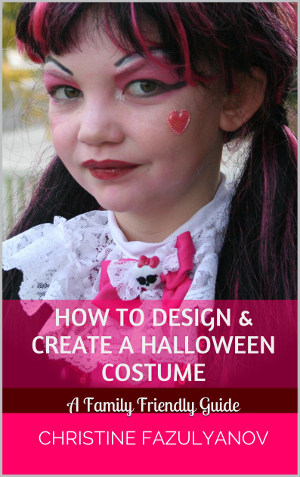 Are you or your kids tired of showing up at Halloween events in the exact same costume as someone else? Is it disappointing to spend $30 on a costume from a bag that is tissue-paper thin and that will never be worn again? Are you running out of Halloween costume ideas? Do you enjoy being creative? If you give yourself a few days to plan, refashion, and shop, then you can design and create a custom costume that has all eyes on you! 
This book will unleash your creativity as you learn how to design and create your own unique, custom Halloween costume. Using the step-by step process explained in this family friendly book, you can create an award-winning costume that is one of a kind, looks like you took time for the details, and can even be useful to you in the future. A great costume is composed of six magic ingredients which are explained in great detail.
You do not need to be a super seamstress or super crafter in order to make Halloween costumes that turn heads.  Refashioning, which means to change or renew an article of clothing,  is a huge new trend in the apparel world and this book also shows you how to apply refashioning tricks to your costume with detailed explanations and links to helpful tutorials. This book is not about major sewing projects, but simple techniques that make it possible to use items you already own or can find at a thrift store.
Pictures, plenty of examples, and a list of resources are included. This process is not just for kids Halloween costumes–this book is a helpful guide as you create costumes for couples, Book Week, cosplay, historical reenactments, and other occasions.
If you need Halloween costume ideas and want to know how to create an award winning costume, this  book is for you!