Retail stores abound with Halloween costume ideas! Think "outside the box", or outside of the Halloween section. These ideas aren't the typical "costume-in-a-bag", but the really awesome thing is that you have clothing that is wearable afterwards, trendy, and not relegated to the dress-up box.  These photos are meant to inspire you as a starting off point, so rev up your creativity engine…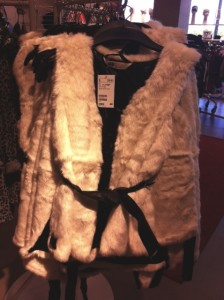 A little lamb with black leggings, black long sleeve tee, cream leg warmers, and a cute lamb hat
A bunny with a pink poofy skirt and tights, long sleeve cream tee, bunny ears, and pink ribbon belt instead of black
Obviously a zebra. Tons of options for what to put with it,  but stick with black and white and maybe a touch of hot pink somewhere: black and white stripe leggings or black leggings, a black poofy skirt with a hot pink bow for some color, a black and white tulle tutu, leg warmers made out of zebra print fabric (sew a simple tube out of a stretchy fabric or put elastic at the top to hold them up), ears made out of fur or craft foam that have a bit of pink in them.  Attach the ears to a headband and finish it off with a tuft of black fur.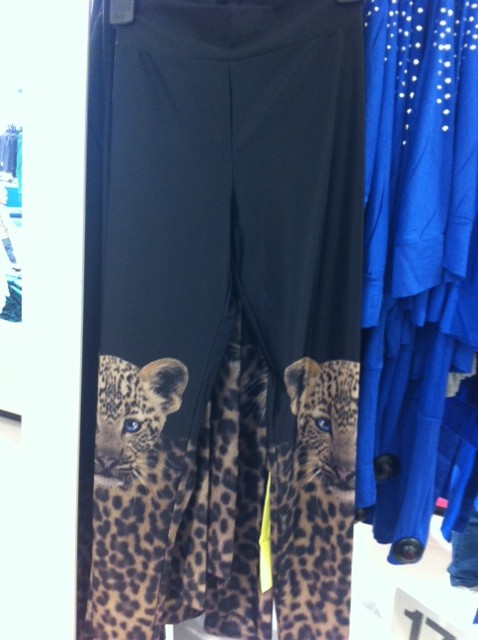 Pretty cool cheetah pants, eh?  Like the zebra, you have tons of options for what to put with it, just keep the brown and black color scheme.  For a super sleek look, wear all black so the cheetahs really stand out. For the top: a black leotard, a brown sweater, brown or black long tee, a brown or black leather jacket, a tunic or vest made from cheetah print or brown/black fur to layer with, or a cheetah print coat. Pair it with a brown and black tulle tutu, a brown poofy skirt, or a circle skirt made from cheetah fabric edged in black fur.  Make or purchase cheetah ears or form an oversized bow and glue it to a headband standing up so that the sides of the bow create an ear look. I saw about 4 different versions of cat ears at Claire's today that would work, but I especially liked the ears made of gold medal with rhinestone bling.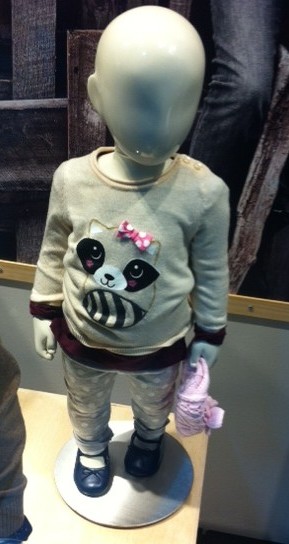 Purchase this sweet top and dotted leggings and fancify it by adding a pink tutu and a cute coonskin hat or raccoon ears with a pink bow to match the shirt. Or just purchase the shirt and pair it with a dark brown skirt and leggings or thick tights.
Unfortunately I didn't see much in the boys section of H & M that inspired me for a Halloween costume.  But I will soon be posting an adorable superhero pattern to sew or no-sew, so stay tuned!