A friend recently asked on my Facebook page if I had any ideas for a Frankenstein Halloween costume for girls.  I immediately went to Chasing Fireflies, one of my favorite costume resources for inspiration. They have amazing looking costumes, though they may seem a bit pricey. However, they are very detailed and often come with numerous pieces. This "Green Monster Girl" costume retails for $89.50, but you get the purple top, the textured green shrug, tiered skirt, the furry boot covers, and the SO fun Frankenstein hat & headband.  If you are running out of time to put it together yourself or don't feel crafty, Chasing Fireflies is a good online resource for boutique costumes and they have really unique costume accessories that I haven't seen at other retailers. It's getting close to Halloween so if you want a costume from Chasing Fireflies, you will need to get right on it and pay attention to the delivery date in case you need rush shipping.
If you love this girl Frankenstein, but would like to recreate your own version, this is how I break it down:
Color scheme: Black, purple, and lime green
Details: Jagged edges, stitches, and bolts
Hair: Use one of the wigs shown below, or paint on green streaks with colored hair spray
Clothing: Purple or black tee and a lime green cardigan made using the tutorials here, and cut a jagged edge on the sleeves and/or the hem and/or cardigan opening.  You can draw on stitches with fabric paint, puff paint, or a black Sharpie marker.  For the skirt, make an easy, no-sew tutu with tulle following the tutorial here, or use a black, lime green or purple skirt you already own or find at a favorite store or thrift store.  I like the green tights layered with black fishnet tights on top, or you can use black and green or purple striped tights. Finish it off with black boots or the buckle boot covers from Costume Craze shown below.
Hat: This is such a cool Frankenstein hat, I wish they sold it separately.  You can create a similar look by cutting about 2″ off the bottom of an empty large cardboard oatmeal canister. Glue the lid onto the top so that it is sealed on both ends.  Cover it with lime green fabric, glue on a tuft of black fur for the hair, and skinny pieces of black felt to look like stitches. Attach this to a plastic or metal headband.  You can stop there, or create the bolts coming out of the hat by painting 2 two liter soda bottle caps purple.  Cut 1 purple pipe cleaner in half so that you have 2 pieces. For one bolt, hot glue the cap onto one end of the pipe cleaner by bending the pipe cleaner just a bit so that the glue has something to adhere to, and poke a small hole in the hat on the side to thread the other end of the pipe cleaner through.  Pull it in until you get the length desired, then trim it if necessary, leaving a tiny tail to secure inside the hat with hot glue.  Repeat for the other side.
Craft a choker necklace out of 1″ wide black satin ribbon, then hot glue metal washers or nuts onto it.  Make sure it has plenty of length so that you can tie it at the neck in the back.  If you want to glue real bolts onto it, the choker will need some reinforcement, so glue the ribbon onto a matching width of black poster board using craft glue or spray adhesive.  The total length of the choker should be the neck circumference (measure it loosely so it doesn't actually choke the neck) plus 1″ additional for the overlap so that you can attach a piece of adhesive velcro to each end of the choker to secure it.  Then use E6000 glue (available at Walmart) to attach 2 short and wide bolts, no longer than 1″, on both sides of the choker as if they were coming out of the neck like Frankenstein.
Here are some additional ideas for to inspire you.  Click on the pictures to purchase the costumes if you are not up for the DIY thing this year.
You can create this look above with a white tee shirt,  black skirt, Sharpie markers to mark up the tee and white tights, boots, arm warmers, and splurge on the cool hat shown or find a fun lime green or black hat to embellish with tulle, large bolts (use toy pieces if you have a child's tool set) and stitches.  Make a faux corset from a black tee shirt by simply taking a very tight fitting tee shirt, and cut it below the arm holes so that you have a wide tube of fabric.  Glue contrasting ribbon in a criss-cross pattern down the front of the tube and make a bow to glue at the bottom of the criss-crossing.  You must glue the ribbon on while the "corset" is being worn on their body so that the shirt is stretched out.  Be sure to use a low temp glue gun and have them wear a thin shirt underneath for protection.  Don't take the "corset" off until the glue has cooled. If you glue it on while laying flat, the ribbons will pop off once they put it on because ribbon needs the slack and does not stretch.
This sassy look can be created using a purple tee or leotard with green felt cut out for the heart. Cut a shrug (simply a shorter cardigan) with jagged edges using this tutorial on how to fashion a cardigan from a tee. Find a poofy tulle skirt in black and add green and purple ribbon using hot glue around the hems, or make a tulle tutu with black, green, and purple tulle using this tutorial. Wear black boots and tights and cut the fingers half off from an inexpensive pair of winter gloves to form the fingerless gloves. Glue a green bow onto each glove for cuteness.  Cut off about 2″ of the bottom of a Pringles can to form the hat. Glue the lid on top of the now short can.  Cover this with green felt and add some black fringy trim for detail.  Glue the hat sideways onto a black plastic or metal headband. Use neon green puff paint to add stitches on the gloves and tights where desired.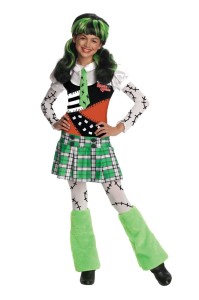 This version is a school girl Frankenstein look using a white button up shirt, green tie, and plaid skirt.  Use a long sleeve fitted white tee to get the layered look and draw stitches on the sleeves with a Sharpie marker. Paint an old tie with green craft paint and cut it to the length you need or create a tie out of felt and pin it to the shirt. If you don't have a black sweater vest, use a sleeveless black tank, or make a sweater vest out of a black sweater with a v neck or scoop neck that you cut the sleeves off of, just outside the arm hole seam so that it doesn't run.  You can also use a plain black tee (cut off the sleeves around the arm hole and cut a deeper scoop neck) for the vest and add detail with white and orange duct tape or felt. You must add the duct tape/felt decoration while the person is wearing the vest to get the slack needed because duct tape/felt does not stretch. A black and white plaid skirt will work great. Cut it shorter if needed to get the school girl look. Add green, orange, or black leg warmers, white tights or leggings, and go to town with the Sharpie marker to make stitches!
This last Frankenstein version is a princess look that I really love.  Find an old fancy dress that you can cut short and glue detail onto. Make a tutu to wear under the dress if needed to help puff it out. Glue on black and white bold patterned ribbon with stripes, chevron, or harlequin diamonds or cut black and white fabric into the shapes as shown at the waist.  Tie a wide black ribbon or sash of tulle around the waist if needed to cover up where the ribbons/fabric were glued on. Draw stitches on the dress with red puff paint.  Add square gems to look like studs around the neckline or waistline, or use real nuts or bolts.  Make striped arm warmers by cutting the sleeves off of a long sleeved striped tee shirt that fits snug in the lower arms.  Make a choker necklace from lime green ribbon and puff paint for the stitches.  Pair the outfit with green or black capri leggings or biker shorts (dye white leggings/bikershorts green if needed) layered over black fishnets and don't forget a chunky boot or shoe.  For the hair, style it using a messy updo or 60s style beehive and wrap it in coordinating ribbon decked out with stitches, and a bow with a small bolt glued to the center.
Either of these wigs would work well for a girl Frankenstein if you don't want to deal with an updo or colored hair spray.
These boot covers are a fun costume accessory to make it monstrously Frankenstein!
To learn more about the design process I use to make award winning Halloween costumes, purchase my Kindle ebook, "How to Design and Create a Halloween Costume" and have FUN!