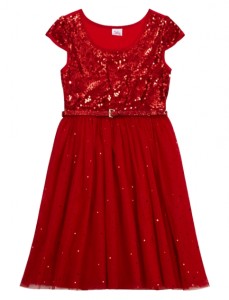 Click here to go to shopjustice.com then be sure to select the ladybug red
High School Musical is on my mind because my daughter just finished playing the role of "Taylor" in High School Musical Jr.  Gabriella wears a cute red dress at the end of High School Musical when they sing, "We're All in This Together."   This sparkling red dress from Justice works great for a brunette who wants to be Gabriella and is perfect for the holidays and Valentine's Day.  Though it doesn't have the spaghetti straps like retail costume does, I prefer this version because it's a little more modest on young girls.  And my philosophy is that you generally want to avoid the "costume in a bag" (meaning the costume that every store is selling for your character)–you want something similar, but unique.  Add loose waves in the hair, strappy gold or brown sandals, and gold bangles for the finishing touch.
I love this upbeat, positive, happy song!