JC Penney has this cool faux-fur vest for that can be incorporated into lots of Halloween costume ideas: I can't tell from the pic, but I am assuming the belt is removable if desired. They are not usually secured.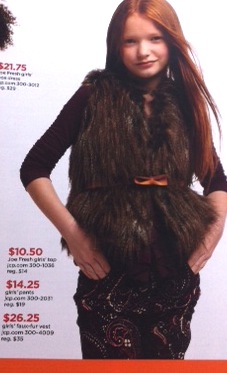 PAPA BEAR, MAMA BEAR, BABY BEAR:  This would be a fun group costume for triplets or siblings.
For PAPA BEAR: Wear this vest over a tan or brown t-shirt, turtleneck, or long john top. For the bottom, use brown or black sweatpants, dress pants, or long johns (dye a white long john set if needed for the right color).  For variation, pair a long sleeved dress shirt under the fur vest with a tie or bow tie and khaki school uniform pants on the bottom. Top it off with this bear hat from Amazon: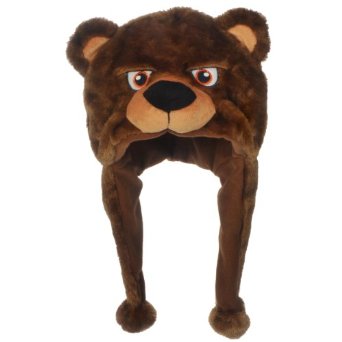 MAMA BEAR would be especially cute wearing a floral dress under the brown faux fur vest, brown tights, and brown leg warmers made from sleeves that are chopped off of a sweater. Layer a tight fitting long sleeved white t-shirt under the dress if needed for warmth. This hat for MAMA BEAR would be cute, warm, and reusable.  I love the built in mittens for a cold night of Trick or Treating! Make a mop cap (easy sewing project) to wear on the back of the head for a "motherly look."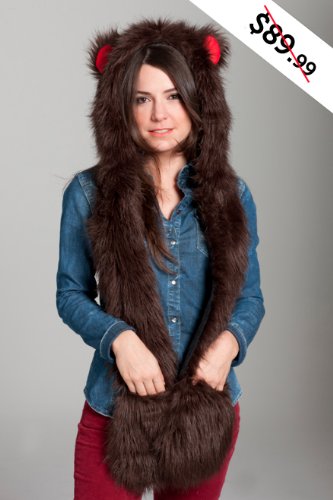 BABY BEAR BOY: Wear the fur vest over a white turtle neck (or dye it a color such as light blue) or a long sleeved striped shirt, and wear khaki shorts or denim shorts over slim fitting brown sweatpants, or omit the shorts and brown pants and just wear jeans. Don't forget the hat as shown for Papa Bear.
BABY BEAR GIRL: Wear the fur vest over a white turtleneck (or dyed pink) trimmed with lace sewn/glued onto the sleeve cuffs.  Add a cute jumper with brown tones or a patterned brown skirt and brown thick tights (can dye white cotton tights if needed.  Brown leg warmers refashioned from a sweater as described for Mama Bear and a sweet matching hair bow pinned to the Mama Bear hat adds the finishing touch.
See additional posts using this faux fur vest in costumes for an owl, eagle, wolf, and fox.
These are not exact formulas for costumes, but rather ideas to get you started in the creative process.  This method of making Halloween costumes using new and existing clothing items is explained in further detail in my Kindle ebook, "How to Design & Create A Halloween Costume".  I guarantee you will have a one-of-a-kind costume because it's based on your creativity!