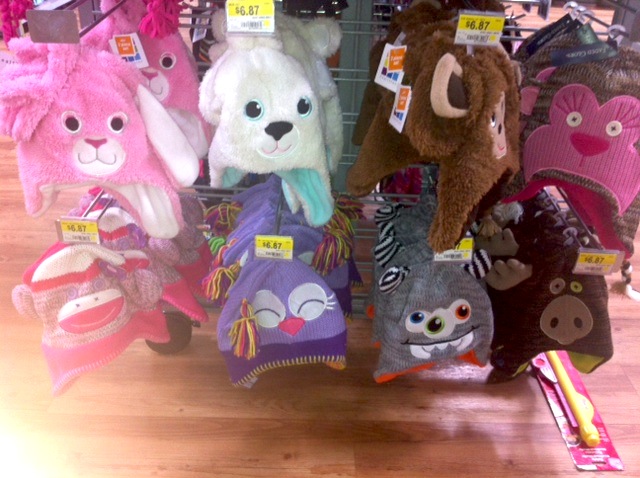 Walmart has these adorable baby and toddler hats that are the perfect start to an animal or monster costume!
For the monkey you will need:
An oversized brown sweater or sweatshirt
Felt piece, large enough for the tummy (tan, pink, or red)
Hot glue or craft glue
Brown leggings or sweatpants
Brown faux fur for the cuffs
Brown felt, fur, fleece, or flannel for the tail
Brown or tan fuzzy slippers or boots
Spray paint, if needed, to paint the slippers/boots
Glitter or sequin trim
Newspaper, scissors
Find a cute oversized brown sweater or sweatshirt in your child's closet, at a thrift store, or discount store.  You want it to come to at least the bottom of the hips. Get a large piece of tan, pink or red felt (whichever matches the monkey hat  you get), cut in an oval, and glue it to the front of the brown sweater for the tummy.
Add some fun brown leggings in velvet or knit faux corduroy, or something with a subtle print. Use brown sweatpants for a boy. This is something that can be worn again, not just as part of a Halloween costume. Get a bit of brown faux fur 2-4″ wide and glue it around the bottom of the sleeves and at the bottom of the pant legs, or pin it if you want to remove it so that you can use the pants after Halloween. Add brown fuzzy slippers or Ugg style boots. If you can't find brown slippers, find a color lighter than brown and spray paint them brown with two light coats.
Make it sparkle by gluing narrow sequin trim in brown, pink, or red around the oval on the tummy or simply outlining it with school glue and brown, pink, or red glitter on top. Craft stores have a large selection of colored glitter.
For the tail, take 3-4 large sheets of newspaper, stack them on top of each other, then roll them diagonally. Adjust the length to how long you want the tail to be by trimming the roll with scissors. Flex the long rod of newspaper back and forth a bunch to soften it, or spray it lightly with a bit of water to help to soften it. If it still seems too stiff, remove a layer of newspaper. You may even be able to get it to curl slightly. Glue a solid piece brown fleece, fur, or felt around this roll to encapsulate it and seal the end by wrapping  the fabric over on itself so the rod can't slide out. Safety pin the top of the tail on the inside of the pants near the waistband.
Paint on a black nose for a simple paint job, or search for a monkey facepaint tutorial. Add the monkey hat.
If you are doing the sock monkey version, use the same method, just different colors.  Use a combination of cream, khaki, and red. Put a brown nose and bright red lipstick on a girl sock monkey. Cool bananas!